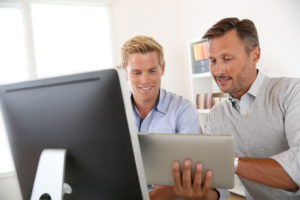 Many businesses have someone on staff to handle their ongoing needs such as web development, building maintenance, or creating a marketing strategy. However, they may find that their designated person doesn't always have the resources or time needed to perform the tasks assigned to them.
Some will outsource this type of work but due to a limited budget or other lack of resources, they often don't utilize the specific talent to its full extent.
So should they hire professionals on retainer?
For some businesses, this depends but many may be surprised at how hiring a professional on retainer can help them reach their specific goals. Of course, it's perfectly fine to hire someone for a special project once in a while but having someone available on a regular basis may make more sense.
What are the benefits to hiring a professional on retainer?
Value to client – when you hire a professional on retainer, you get more value than you would hiring someone just one time. You will gain an idea of what this person is capable of, what to expect from them, how much they charge, and how they can help you improve on what you need accomplished. Depending on your agreement with them, this person can be available to you whenever you need them so there's no delay or expense in vetting them.
Having one "go-to" person – if you're only hiring people on a one-time basis, each and every one of them will need to take time to learn about your business and what your specific needs are. Think of what you go through when you have to bring on new staff, it can be a time consuming and expensive process for the professionals you hire as well.
Fresh set of eyes – when you hire someone outside of your company, they will help you improve because they will have a fresh set of eyes to look over what you've done, what you're doing, and what your goals are. They will have a new perspective and most likely will be able to present new ideas or strategies to help you make improvements.
The professional you hire should also possess specialized skills to meet your specific needs like certifications or experience in your particular industry to ensure a successful working relationship.
Hiring someone on retainer could work for any service you use on a regular basis. Knowing who your go-to person is ahead of time will help to save you time, money and stress.